there will be a new section on my blog called Craftpreneur Files, where i will be featuring very talented crafters in interviews. i've discovered that there are a lot of undiscovered talents, both in the Philippines and abroad, and this is a way to spread the word about their beautiful work. As debut of Craftpreneur Files, I've decided to interview one of my team members from Etsy Pilipinas and seasoned sellers on Etsy, Milka of MQuin.
hi, Milka! welcome to PopkinGarb. Please tell us a little about yourself and what you do.
My name is Milka, I am wife to a wonderful husband for 8 years and we have a 2 year old boy. I started fashion design a little bit late than most when i turned 30. Before that I was a banker and also managed operations for a call center. I stopped working and decided to pursue fashion design and studied at Slims Makati.
I now have a one-woman shop in Etsy. I design and make the garments I sell online. I also am trying to go into the wedding clothing business here in the Philippines.
seems like you've been through a lot before crafting. how did you start your crafting business?
I started residence in Madrid, Spain in 2008. My husband was working there at the time. I wanted to start my fashion experience fresh from graduating so I decided to put up an online shop. I chanced upon Etsy from an article I read from a blog and everything started from there.
where do you find inspiration for your work?
My design inspiration comes in every aspect of my everyday life. From interesting pieces of furniture to enticingly arranged meals, I get some ideas. I am also inspired by books I read, and movies I watch.
looks like we share the same muses. how has it been selling on Etsy? how about locally?
It has been and is still a GREAT experience. I am still excited to know that my pieces travel all the way around the globe to a customer I haven't even seen and turns out that the clothes I have designed and sewn for them fit perfectly. I have not tried selling my clothes locally, though.
wow! it does feel good when others appreciate one's work. however, have you encountered drawbacks for your business? any lessons learned from them?
I haven't encountered any major drawbacks when selling on Etsy. Minor ones include time constraints and problems with customs, and like any other problem, we learn our lesson from them. Adjustment is the key.
what has been your most memorable project?
My first designs. I was excited but more nervous when I started making clothes for my shop in Etsy since I do not have a vast experience making clothes for others. I had the notion that no one would buy clothes online since most want to fit the dress before buying. I was ecstatic when I had my first sale!
any tips for aspiring craftpreneurs?
Do not be afraid to dive into business. Remember that doing the thing you love brings out beautiful work that everybody will appreciate. Welcome criticisms and learn from them.
Thanks for the great insights, Milka! We hope you continue creating more of those wonderful dresses of yours and be known for it.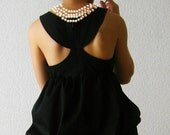 images from MQuin shop on etsy